Katelin - Senior Stylist/Owner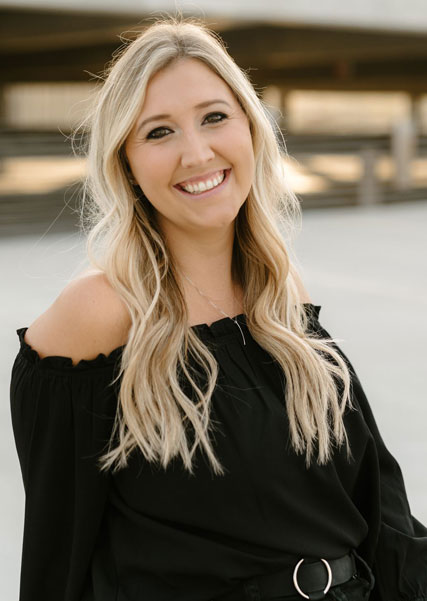 About
Hello I am Katelin.
My sister Hayley and I took over the family business in July of 2022.
I am Duncan's youngest daughter, and can honestly say I have grown up in a hair salon. I trained under my dad and completed my apprenticeship in 2012. I enjoy continuing my education by attending courses and hands on training with some of the top stylists from the UK and US.
I love highlighting blondes and doing color in general. I also always enjoy learning new techniques.
The best part of my job is seeing the smile on my clients face when they walk out feeling and looking their best. My out of work time is spent with my son iggy, husband and friends. We both love vacationing and watching iggy grow up!
It was my first time at the salon. Katelyn did a great job with my hair highlights. She was able to understand exactly what I wanted. She provided suggestions on picking the right shade for my hair. Very happy with the results. Friendly staff and clean salon would definitely recommend this place.
Tissa, Columbus, Ohio
Duncan Edwards is the only place I trust with my hair and Katelin is the absolute best! Would highly recommend her as she is very knowledgeable and highly skilled. I have been going to her for at least 7 years! I have recently moved to Minneapolis and still drive FOUR hours for my cut/color. The salon is sleek and clean. The staff is great and feels like family. Thank you Katelin for being wonderful to my hair!
Rachel R, Madison
Finding a new hair stylist is always daunting but I was so pleased with my experience. I had my first appointment with Katelin & she was fantastic. She listened to what I wanted, she was very engaging, & my hair turned out great. She was also interested in my hair health as well, suggesting that I wait longer in between appointments to give my hair some recovery time. The salon itself had a very friendly atmosphere as well. Will definitely be back. Thanks Katelin!!
Stephanie W, Madison
I had went in to see Kaitlyn and I was so nervous being I had never been to this salon and my hair is very blonde.. it was so grown out and I didn't want my hair to turn brassy or anything. She explained to me the whole process of what she was doing and reassured me that my hair would be OK, and suggested I get highlights… And made me feel very comfortable about it, and she did an AMAZING JOB!! LITERALLY THE BEST HAIR I've had in the 6 years I've been blonde!!!!!! Literally just so happy about the great job she did! I saved her card and will be coming back to see her when it needs t be done again. And the price was very affordable also! Everybody was really sweet and helpful! And also the salon was very nice looking and very clean!
Collen B, Madison
As many of the other reviewers, I was not able to find a stylist in Madison I liked and who could handle my hair. It is thin and has stubborn crazy frizzy curl in the back of my head with a straight top layer. Katelin listens carefully, has great suggestions, and ultimately does a great job with my hair. Menopause made my hair mousy and dull, but with highlights (first time in my life for me) and the Duncan house brand "everyday miracle treatment" my hair looks bright and shiny again. I would highly recommend Duncan Edwards. They seem to have many talented stylists at their salon. You see the same faces each time you go there, which means the staff is happy there and so are the customers!
Silke S