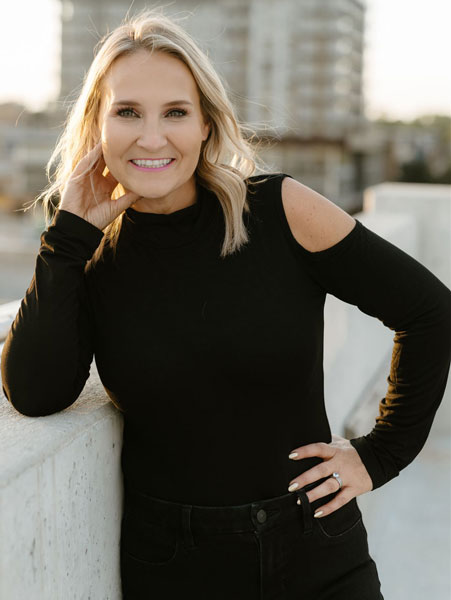 About
I attended cosmetology school at the Aveda institute in Minneapolis and graduated in 2001. After graduating I moved back to England (where I was born) and worked at Blu salon in Nottinghamshire. I have been at Duncan Edward since 2003, working with all my family, my husband Aaron, my father Duncan, little sister Katelin and not forgetting my mom the manager, Gillian. I love being part of the hairdressing industry and my family business.
My specialties are baby lighting, foilayage, balayage and women's precision haircuts. I love making my ladies look and feel great. My downtime is spending quality time with my husband and two children and love travelling on vacation.
Jeanne C, Madison WI
After years of her wonderful cuts and colors I thought it was about time I better leave a rave review for my amazing hair stylist, Hayley at Duncan Edward's. I have not let anybody else touch my hair in many many years…I have never had a single badly cut strand of hair, (and I know my hair is very difficult to cut) my color has always been amazing and I get a ton of compliments on my highlights! Plus…it seems she does her very best to fit me in when needed and I have a tendency to give her last minute notice. Thank you Hayley!!!
And I have no idea why they have me in San Francisco…but I can't get it to change. I'm here….in Madison. 🙂
Jeanne C, Madison WI
Debra K, Madison, WI
Hayley cuts and colors my hair and has been doing so for some time. I have a lot of gray and she has taken me from a reddish brunette to light brown with blonde highlights. I now no longer need to do root touch up in-between appointments and love my new color. Thank you Hayley!
Debra K, Madison, WI
Debra
Hayley has been coloring my hair for a number of years now and cuts it when Duncan isn't available. The listen to what I want and work with me to make sure that I am 100% happy with my cut and color. I switched to Duncan Edwards after driving back and forth to Milwaukee and beloved salon for many years. I am very happy that I made the switch. I have recommended them to friends and would recommend them to anyone in the Madison area!
Debra